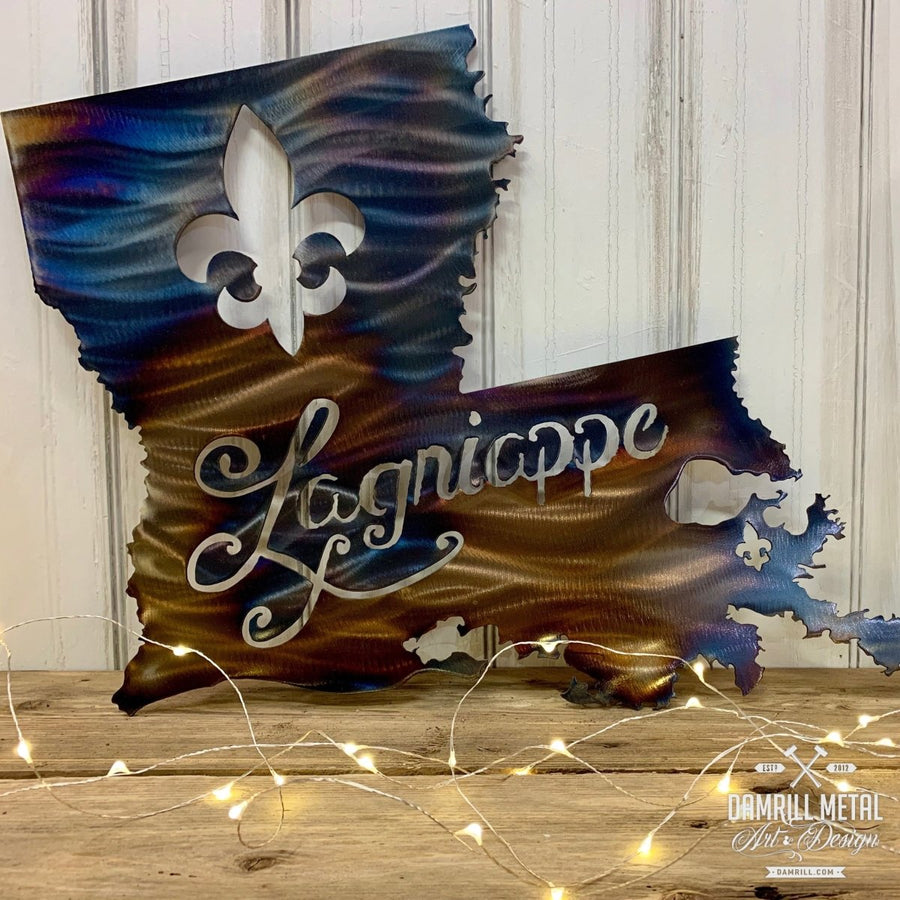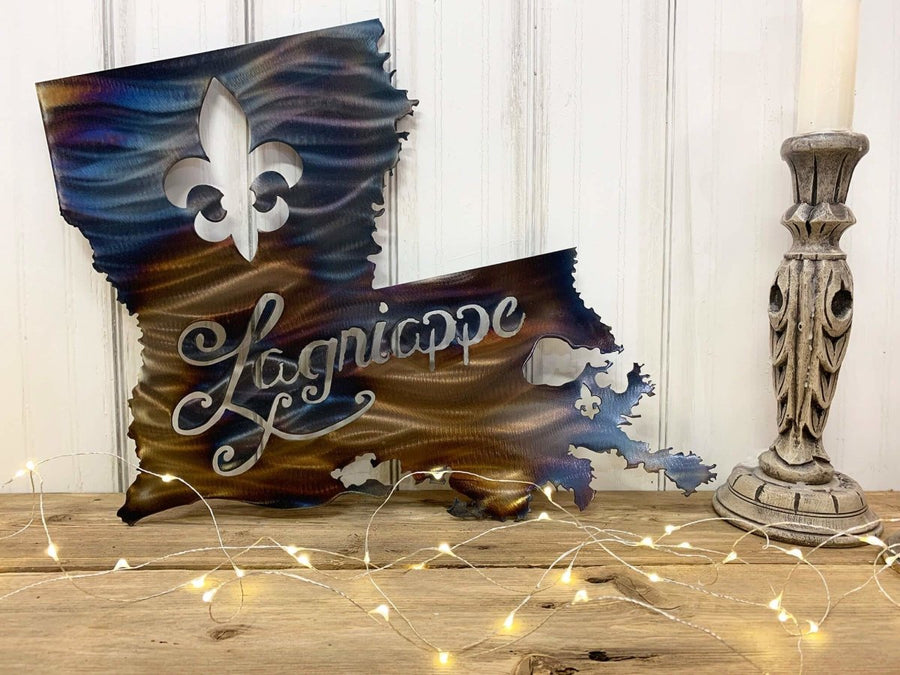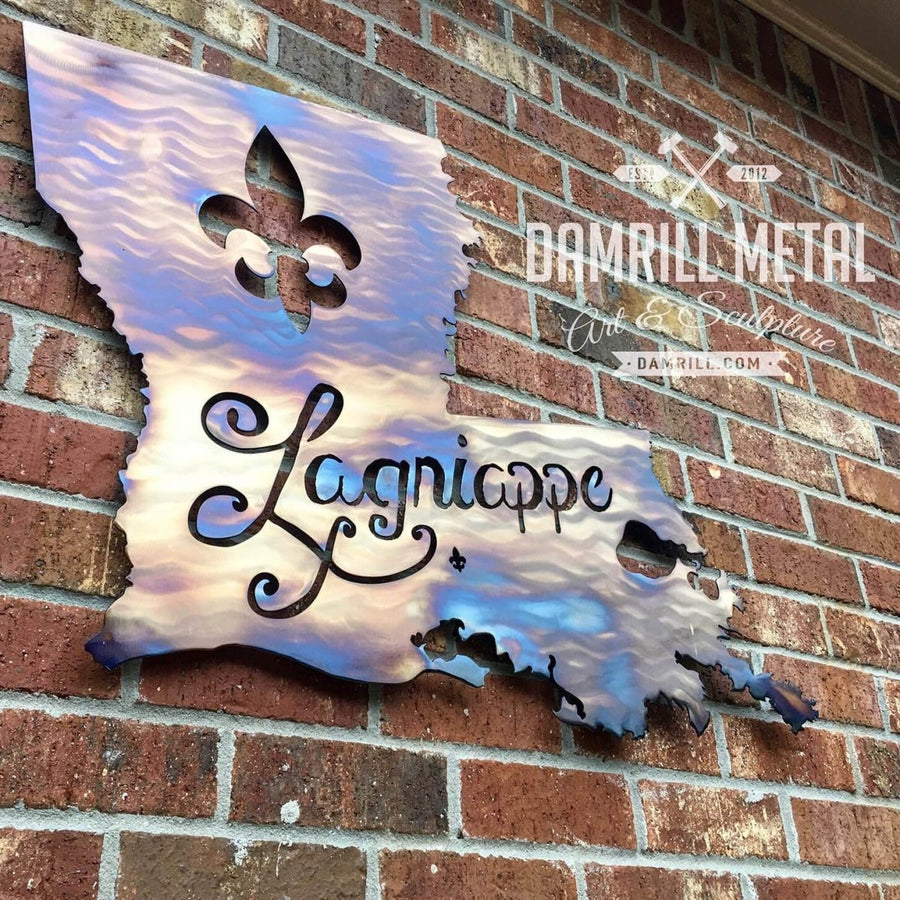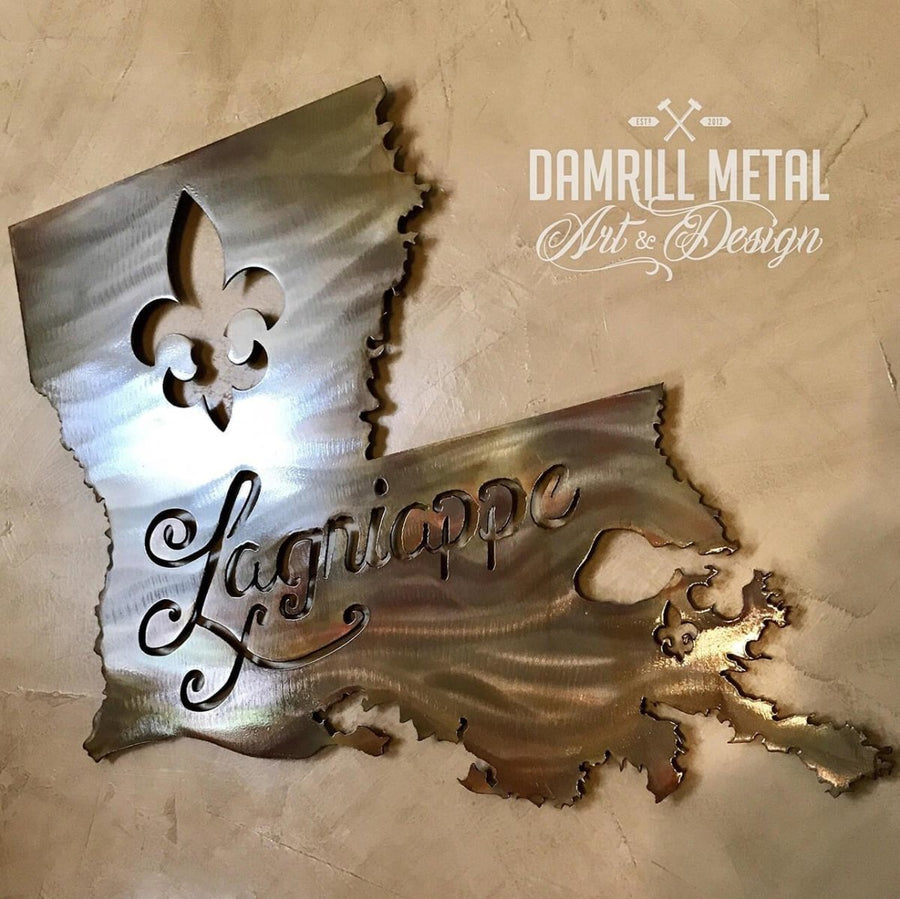 Lagniappe. Pronounced lan-yap. French for a little extra or a bonus. As in "They threw in a little lagniappe." Mark Twain, who called it "a word worth traveling to New Orleans to get" in Life on the Mississippi (1883).
This unique and beautiful 20 inch Metal Louisiana state features a traditional FleurDeLis and Lagniappe. Designed to be displayed anywhere inside and outside the home, office, garage, or shop. It's made with Louisiana enthusiasts in mind. This is the perfect gift to get a little extra or simply missing home. Ideal gift for Christmas, Anniversaries, Birthdays, Valentine's Day, or just because.
Dimensions: 17" height by 20" width
Materials: metal, clear sealant
Display: hanging made easy by welded hangers
Once cutting, grinding and polishing each Louisiana is either finished in our handmade copper patina that creates a deep copper look or torch fired patina, bringing out the natural blue and gold tones.
All of our art has multiple coats of a clear finish to seal and protect. This makes our art perfect for both indoor and outdoor use*.
Please allow 3-9 business days for production prior to shipping regardless of shipping service. If you need a piece by a specific date, please contact me first so I can check my schedule.
If you have a custom size request feel free to contact us, we would be more than happy to help!
Like us on Facebook for Discounts and Updates 
Thanks for stopping by!
Designed and Created by: Daniel Damrill 
©Damrill Art & Design, LLC 2009-2023 All Rights Reserved
You can trust that your order will be quickly processed and safely delivered.
We can ship products anywhere within the United States using Fedex our as shipping providers. When you place an order we will estimate delivery dates based upon the availability of your item(s), shipping method selected and your shipment's destination.


Generally, orders will typically ship within 5-14 days from the customer's order date on average. In some rare cases since everything is made to order by hand, times may be longer.